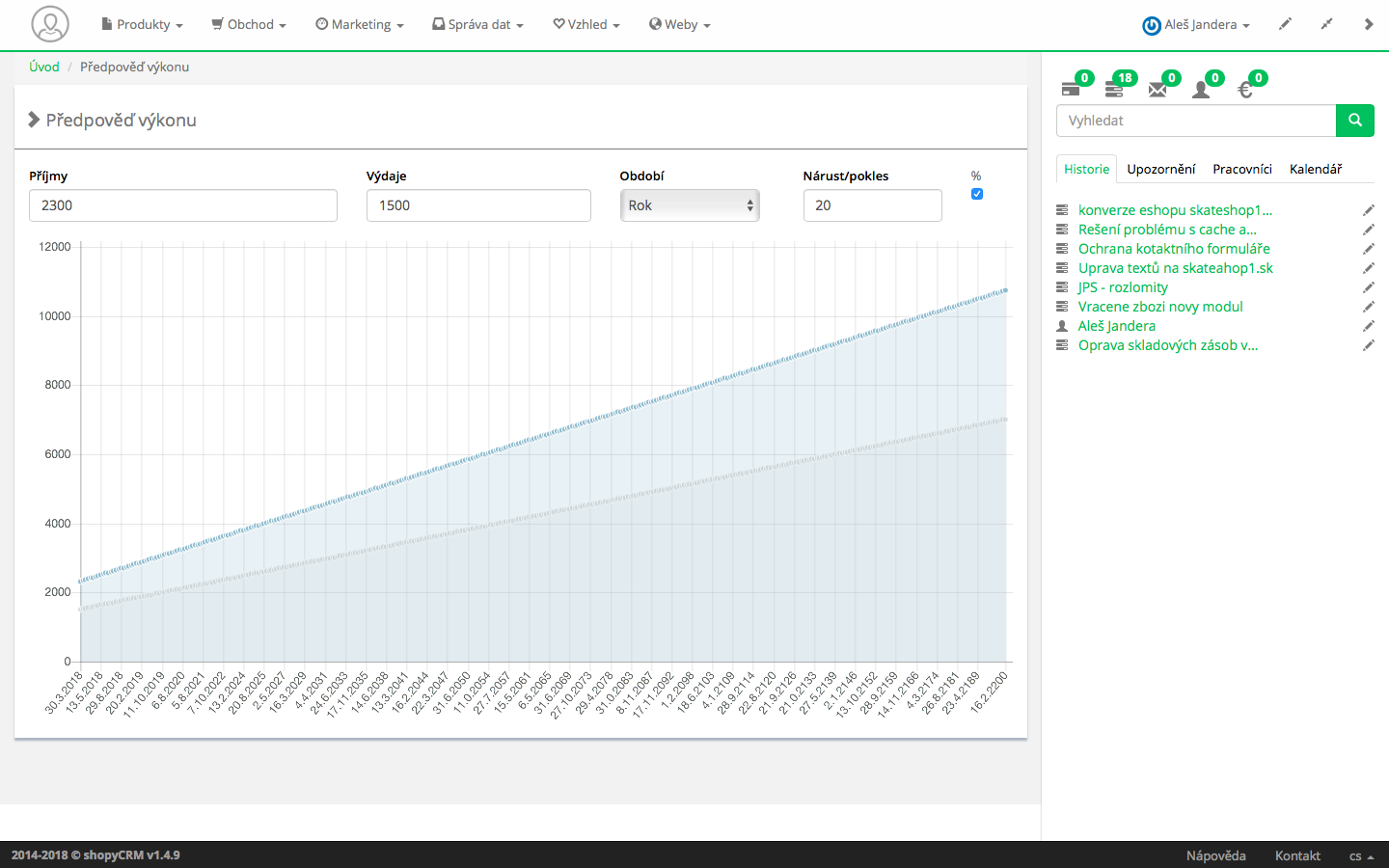 Business software shopyCRM
Modern cloud application not only for Customer management for your business. ShopyCRM used moder technologies in cloud to give you usefully and fast management of your bussieness from any place with internet connection. You have access to your Customers, whole company agenda and ypur presentation or e-commerce webs from one place in your favourite browser. ShopyCRM gives you modules to work with Customers, Contacts, Orders, Products or Services, Documents, Opportunities, Leads and much more instead of for example integrated email client.
What is CRM and what should give to your company see here.

Sophisticated data management
Application has strong tool for import and export for all your needs. Data can be exported in XLSX, XLS, XML, CSV, ODS and imported can be in XLSX, CSV, XML, ODS formats. For import a export you have intuitive interface, which helps You to import and export any kind of data schemas.
Automated workflows
In module for processes management you can easy set automated workflow to make your work easier. Specify your companies workflow and shopyCRM make it automate to save your time. I am read to help you with process identification and work flow set up. If you needs I am able to educate you or your employees to professional usable of workflow automatization.
API
ShopyCRM have full REST API for external conectivity or to connect with other services which your company use. API is still in progress and actually have not public documentation. If you need some external connectivity, please contact me. I will prepare api script for your needs.
Advantage of cloud solution
You don't need any own server. You will use own instance in our cloud ecosystem on address your_company.shopycrm.org and I will maintaine it for you. Your instance will be always actual and fully function. You will not wait for a new functions to release new version. All new function will be added continuously to your instance ass soon as it will be developed.
Security
shopyCRM runs in forpsicloud cloud plarform, wich is one of the best cloud platform in Europe and use moder security tools and backups to have all your data safety. For images and documents shopyCRM use obejct storage which is replicated in 3 independent district to have maximum security and availability for your data.
GDPR
shopyCRM pass all technical needs for GDPR regulation. All agreements what we needs are the part of our Terms and Conditions to have all your data protected. We use fully encrypted data storages to minimalize potentional problems with system hacking and data stole. ShopyCRM has implemented pseudonymization and anonymization mechnaism.
Data Protection Officer
Do you have take care of GDPR in our company? Do you need Data Protection Officer per legal or only need a service to not take care of GDPR yourself? External GDPR Data Protection Officer will br counicate with goverment, educate your employees and prepare all documents you will need. shopyCRM s.r.o give you that as a service for $ 20 monthly ($ 220 in annual payment). Contact me for more information per contact form or contact information in header to give more information about DPO services.
Piecework in data processing, import and export custom modules, API comunication with external services, GDPR services, education training is realised for $ 180 per day, education training is realised per video calls.